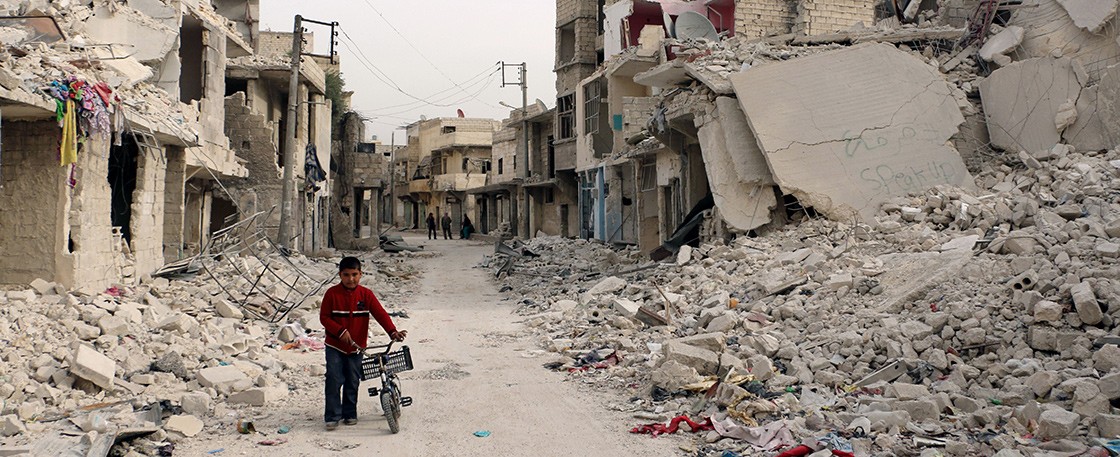 Out of the Shattered Land
What is it like to be a young refugee? Author Kristin Lewis tells the amazing true story of two brothers who escaped war-torn Syria and started a new life in the United States.


Learning Objective: Students will read a narrative-nonfiction article about two young refugees and determine how war and a move to America have affected them.

Lexiles:
800L-900L, 600L-700L
Cause and effect, vocabulary, compare and contrast, key details, author's craft, supporting details, main idea, critical thinking, drawing conclusions, explanatory writing
"Out of the Shattered Land" tells the story of two young brothers who move to America to escape the war in Syria. The article also provides general information about the Syrian war and about the plight of refugees around the world.
The text is mainly chronological. It consists mostly of narrative passages, with informational passages woven throughout.
The article includes some challenging academic and domain-specific vocabulary having to do with war (e.g. rubble, crisis, refugees, persecution), as well as metaphors and other figures of speech. 
The article refers to several locations in the Middle East and Europe, as well as the United Nations. Some knowledge of the war in Syria, weapons of warfare (e.g. war planes), and the American immigration process will be helpful.
Preview Text Features and Vocabulary; Watch a Video (40 minutes, activity sheets online)

Read aloud the Up Close box on page 4 to set a purpose for reading. 
Ask students if they know where the country of Syria is. Then point it out on the map on page 6. 
Distribute the vocabulary activity to preview challenging words from the article. Highlighted words: rubble, crisis, treacherous, refugees, persecution, deteriorate, scarce, traumas, arduous 
Show our video "Behind the Scenes: Out of the Shattered Land," with author Kristin Lewis. Have students complete the video activity.
Read and Unpack the Text (45 minutes, activity sheet online)
Read the article as a class, or play our audio version as students follow along. Have students read it a second time in small groups, answering the close-reading and critical-thinking questions. 

Reread the first section of the article. What caused the Jacob family to leave their apartment on a September afternoon in 2012? (cause and effect) The family left their apartment because a bomb had exploded nearby, and a gun battle was going on outside. They realized their lives were in danger. 
What was Cedric and Francois's neighborhood like before the Syrian war? What was it like after the war began? (compare and contrast) Before the war, the brothers' neighborhood was a safe and pleasant place, filled with thriving businesses and happy families. But once the war began, the neighborhood became dangerous, torn apart by explosions and street fighting. 
According to the section "A Terrible Crisis," how has the war in Syria affected its people? (cause and effect) The war in Syria has killed 300,000 people, destroyed the homes of 6 million people who still live in the country, and forced 5 million more to flee to other countries—often under dangerous conditions and with few belongings. 
In "Just in Time," what details help you understand what living in a war-torn city was like for the Jacob family? (supporting details) Details include: There was often no electricity or running water; food, fuel, medicine, and money were very hard to get; and the brothers heard gunfire outside as they did their homework. 
What big news did the family receive in this section? How did Cedric and Francois react to this news? (key details) The family learned that an uncle had gotten permission for them to move to America. Cedric was happy to be leaving the dangers of Syria for a new life in America. But Francois notes that he and his brother were not able to say goodbye to Aleppo or their friends, which likely made them sad.
What is the main idea of the section "Huge Challenges"? Why do you think this section is included in the article? (main idea) The main idea is that life can be extremely challenging for refugees who move to a new country. This section is likely included to show that, although the Jacob family was lucky to be escaping the war in Syria, challenges lay ahead for them in America. 
In "Starting Over," how did other students treat Francois and Cedric? What effect did this have on the brothers? (cause and effect) Other students were kind to Francois and Cedric, inviting the boys to sit with them at lunch. This made the brothers feel welcome in their new schools.

To empathize with someone is to understand and share their feelings. Which details in the article especially help you empathize with Cedric and Francois? (critical thinking) Answers will vary. Students might point to the detail about the boys having to do their homework to the sound of gunfire, Francois's quote about not getting to say goodbye to his friends in Aleppo, or his memory of sitting alone at lunch. These details help readers relate to the boys and therefore empathize with them.
The final paragraph explains that the brothers try to focus on "what they've found" rather than "what they've lost" in leaving Syria for America. In your own words, explain what they've lost and found. (drawing conclusions) Fleeing Syria, the brothers had to leave behind their home, their childhood friends, and the beloved city where they grew up. But in America, they have met kind new people, continued their education in peace, and gotten the chance to build a future free from the dangers and hardships of war. 

Featured Skill: Cause and Effect
Distribute our cause and effect activity and have students complete it in groups. Then have them respond to the writing prompt on page 8.

Make a Digital Brochure: Invite students to imagine that a group of Syrian refugees is starting at their school. Guide them to www.canva.com to create a digital brochure for fellow students to learn about refugees and how to make them feel welcome, using information from the article. Have them click "Create a design" and choose "Trifold Brochure," then drag text boxes and images from the side panel onto the template. (They should select "Free only" from the dropdown in the search bar.) 

Differentiate and Customize
For Struggling Readers
Have students read the lower-Lexile article. As they read, they should highlight the ways in which the war has affected the brothers in one color, and the ways in which moving to the U.S. has affected them in another color.
For Advanced Readers
Have students read our October/November 2016 article "Escape From War," which is about a Syrian refugee girl named Dania. Then ask them to write an imagined dialogue between the Jacob brothers and Dania in which they compare their experiences as refugees.
For ELL Students
Many ELL students may have moved to America from another country. (Some may even be refugees themselves.) Hold a discussion about what it's like to be a newcomer to the U.S.: What have they found surprising? Challenging? Enjoyable?
For Independent Reading
Have students read the article independently, pausing to complete the close-reading and critical-thinking questions as they read. Then have them respond to the writing prompt on their own.