Using the Family Letter
We realize how vital the school-to-home connection is, and our goal is to make it easier for you to build that connection, so we've created a letter for you to share with your students' families. The letter introduces parents to Storyworks, and provides simple tips for sharing the joy of reading with their child. 
The Family Letter is written especially to encourage children and parents to read and talk about Storyworks together. The letter is available in English and Spanish and gives simple discussion starters for different stories and resources in the issue. It also provides an easy way to send home your classroom password, so families can read the digital issue.
You'll find a Family Letter link at the top of every issue page: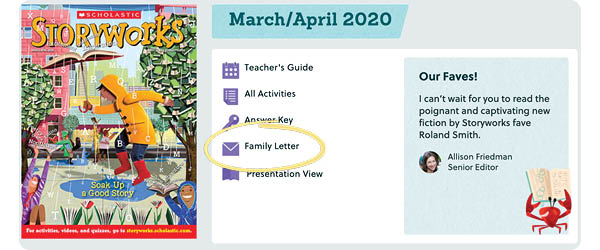 There are several ways you can share the letter with families:
Download the PDF and attach it to an email
Post it on a class webpage
Upload the PDF to Google Classroom
Copy the link to the PDF and paste it into a post on Google Classroom or another learning management system
Copy and paste the text of the letter into an email or text message
If you are still in school, photocopy it to send home with students